Vogt Ice Machines
1-2 Tons of Ice Per 24hr

3-10 Tons of Ice Per 24hr

20-25 Tons of Ice Per 24hr

40-80 Tons of Ice Per 24hr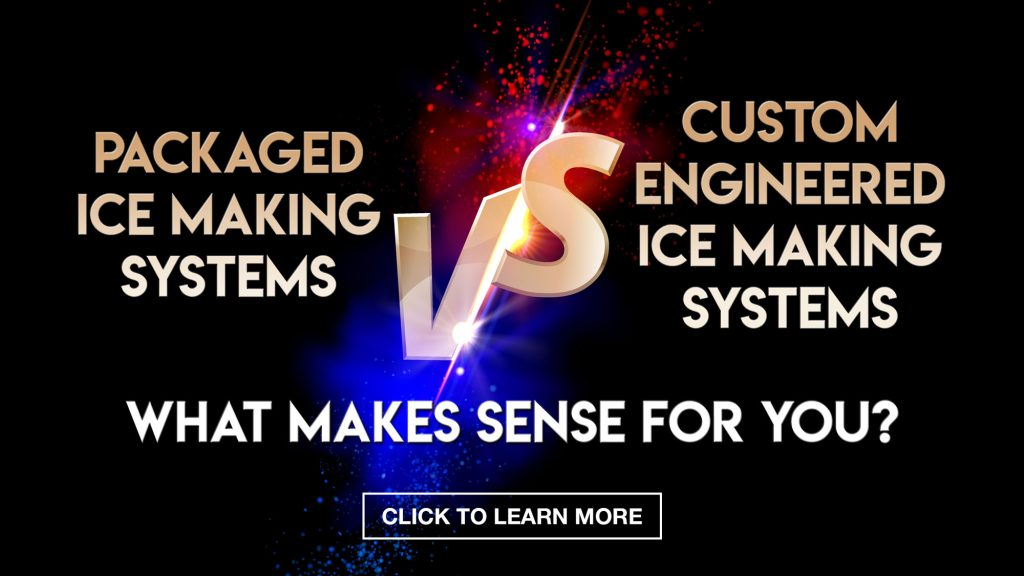 CONTACT A SALES REPRESENTATIVE
phone: (800) 325-3667
email: [email protected]
---
Why is Vogt® the best selection for Industrial Ice Makers?
The Most Energy Efficient Industrial Ice Machines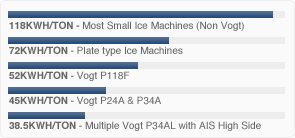 Vogt® Tube-Ice® Machines are the most energy efficient ice units available. Independent tests have shown Vogt® Tube-Ice® Machines to be two to three times more efficient than some other competitive ice units. In a very short time, the energy savings alone may pay for the entire cost of the new Vogt® Tube-Ice® Machine installation. Refer to the chart above and compare the current manufacturing cost to the cost of making ice with a Vogt® ice machine.
Vogt® Ice Machines Are Dependable
Vogt sets the standards of quality against which all other ice makers are measured. Vogt® discovered long ago that ice machines equipped with light, inexpensive parts break down more often, resulting in excessive maintenance and downtime. Therefore, Vogt's craftsmen use only the finest materials and components available to manufacture the quality Vogt® Tube-Ice® machines. No other ice machine operates as trouble-free and with less maintenance than a Vogt®.
Long Service Life
No other ice maker lasts as long as a Vogt® Tube-Ice® Machine. All fabrication takes place in Vogt's modern production facility where components are built heavy-duty to ensure durability and long service life. Today, it is common to find 30-year-old Tube-Ice® machines in daily operation.
Uniform Tube Design
Vogt® Tube-Ice® machines produce the ice that your customers desire. Tube-Ice® is available in three different sizes; 7/8″, 1-1/8″, or 1-3/8″ diameter, each sized approximately 1″ long. Vogt® Tube-Ice® provides you with the flexibility you need to meet the demands of your particular market, while preserving the integrity of a quality cube-type product. Since Vogt® Tube-Ice® machines produce a sized product with minimal chips, there is little need to employ expensive ice screening and sizing equipment. In addition, since very little, if any, chips and fines are separated and disposed of, more usable ice is preserved for the bag.
Why is AIS the best place to purchase a Vogt®?
Automatic Ice Systems, Inc has Experience
At AIS, we have employed Vogt® Tube-Ice® Machines in our ice systems for over 30 years. We have designed hundreds of both industrial and commercial ice systems, not only for the packaged ice industry, but also for chemical companies, bakeries, fisheries, poultry processors, catering companies and airlines. They range in size from 3-ton single machine facilities to multi-unit installations well in excess of 500-tons per day capacities. Nobody has more knowledge of Vogt® Tube-Ice® machines and what it takes to achieve their maximum system efficiency than AIS.
AIS has developed Industrial Ice Plants Worldwide
At AIS we have developed hundreds of Ice Plants in more than 60 countries worldwide. Not only do we have experience in a great number of international markets but we understand the logistics of administrating the complexities of international projects. Our commitment to the international marketplace has helped to extend the Vogt® and AIS partnership of quality worldwide.
Custom Engineered Ice Systems
At AIS, we custom engineer every ice manufacturing and processing system specifically for its unique application. All of our computer designed Vogt® Tube-Ice® Systems are designed with efficiency, expand-ability and cost effectiveness in mind. All components of our systems are engineered not just to work together but are designed to blend together into a highly synchronized system that reduces the total cost of the finished product. We not only design ice systems specifically to meet the particular needs of Vogt® Tube-Ice® machines, but we custom design each system to meet the unique needs of each individual customer.
Parts and Service Center
At AIS, we can provide an on-site technician to get your ultra-efficient Tube-Ice® Machine running as efficiently and trouble-free as possible. In addition, if your Vogt® Tube-Ice® Machine does break down, we have the knowledge to get it running as quickly as possible. AIS is a factory-trained Vogt® Service Center with over 40 years of field experience with Vogt® Tube-Ice® Machines. We have invested in a complete inventory of parts with the goal of maintaining our customer's peak performance.
---