Introducing AirRanger
---
According to Statista and Business Insider, the average driver salary has increased 75%, and diesel fuel costs have increased $1.30 per gallon (or 51%) over the past 12 months. It is imperative that ice companies find new ways of delighting their customers by dispatching product where and when is it needed, not based on static routing models. By turning dispatching into a real-time method, AirData IOT projects that ice companies can realize an OPEX reduction of approximately 30%, while at the same time increasing revenue by 26%, paying for the system in no time (reference Model 1).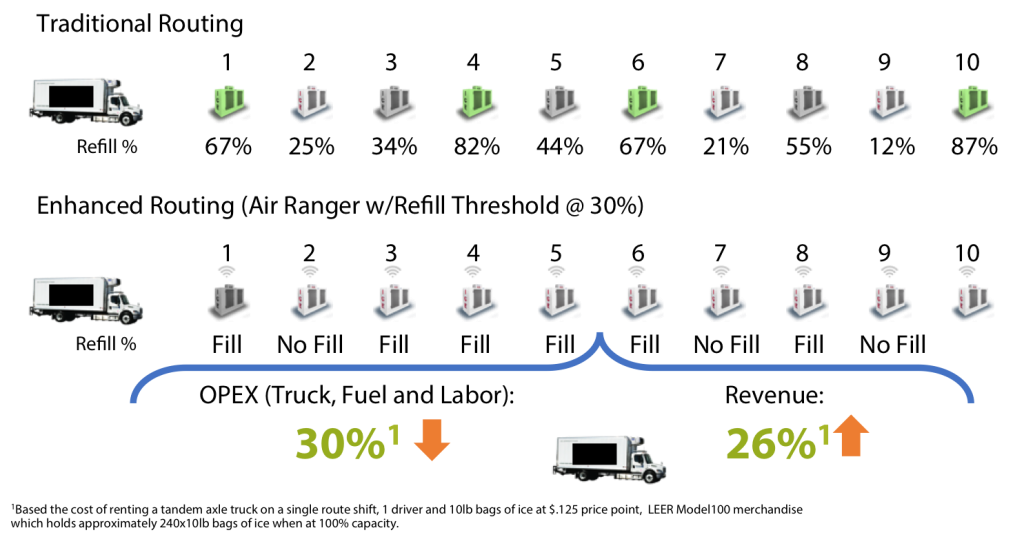 ---
AirRanger: How it Works
---
---
AirRanger: The Solution
---
Built on Experience
Automatic ICE™ Systems, an AirData IOT Partner, is a leading provider of comprehensive ice products and services with over 40 years of experience providing integrated solutions and services to ice producers, including specialty, ice producer equipment, ice merchandisers and other products ice producers need. Our unique approach to working with ice producers, now combined with AirData IOT, can provide the end-to-end ice solutions taking the industry into the 21st century.
---
---