Refrigerated Transports
Leer offers two sizes of refrigerated transport units and optional refrigeration systems for ideal transportation of ice, frozen foods, perishables, beverages and more. Versatile enough to be used for virtually any purpose, including delivery, storage, promotions or special events, our transports are built to last and are truly designed for a variety of usage and temperature requirements.

---
Model 4 x 8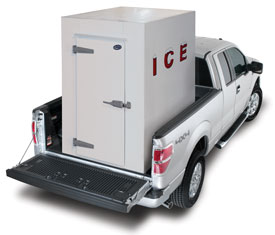 CAPACITY
140 Cubic Feet (approx)

OUTSIDE DIMENSIONS
Width 48″
Depth 96″
Height 71″
ATTRIBUTES
• For 3/4 Ton Trucks and Trailers
• Door opening: 25″W x 57″H
• Cold Wall: 1,175 lbs.
• Auto Defrost: 1,085 lbs.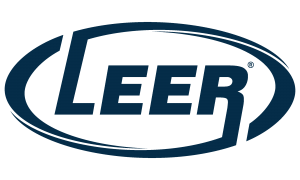 FEATURES
• Steel cabinet construction
• White, high gloss, polyester FDA Tonka finish exterior for optimum hardness, metal flexibility and durability
• Stucco galvanized interior
• 3"-thick, CDC-free, foamed-in-place polyurethane insulation
• Heavy-duty powder-coated hinges
• Stainless steel locking door handle with interior safety release
• Automatic defrost or coil wall plate refrigeration system
• R404 ½ HP 115V refrigeration
• Thermostat control with dial thermometer
• Interior lighted switch with vapor-proof fluorescent light
• 20-foot power cord with control box
• Magnetic door gaskets
• Door canopy with standard left door swing (right door swing also available)
• Wood duckboard floor overlay
• 7 solid block structural mounting locations
• One year compressor and parts warranty
• Strip curtain (optional)
• -10°F or +35°F refrigeration system (optional)
---
Model 5 x 9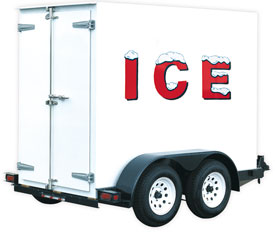 CAPACITY
220 Cubic Feet (approx)

OUTSIDE DIMENSIONS
Width: 56″
Depth: 108″
Height: 83″
ATTRIBUTES
• For 1 Ton Trucks and Trailers
• Door opening: 45″W x 74″H
• Cold Wall: 1,795 lbs.
• Auto Defrost: 1,640 lbs.

(trailer not included)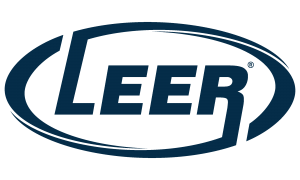 FEATURES
• Constructed to load up to two 42×48 pallets of ice
• Pallet skid rails, stop and interior door kick plates help keep skids in place, protecting the surface interior
• Steel cabinet construction
• White, high gloss, polyester FDA Tonka finish exterior for optimum hardness, metal flexibility and durability
• Stucco galvanized interior with 14-gauge reinforced floor or aluminum tread plate
• 3"-thick, CDC-free, foamed-in-place polyurethane insulation with 4"-thick floor
• Heavy-duty powder-coated hinges
• Stainless steel locking door handle with interior safety release and floor bolt fastener
• Automatic defrost or coil wall plate refrigeration system
• R404 ¾ HP 115V refrigeration
• Thermostat control with dial thermometer
• Interior lighted switch with vapor-proof fluorescent light
• 20-foot power cord with control box
• Balloon gaskets
• Door canopy with standard left door swing (right door swing also available)
• Wood duckboard floor overlay
• 9 solid block structural mounting locations
• Strip curtain (optional)
• -10°F or +35°F refrigeration system (optional)
• Heavy-duty 230/1/60 refrigeration on automatic defrost models (optional)
---