Introducing the newest Mobile Industrial Delivery Automatic ICE™ System, or MIDAIS for short. This is our newest MIDAIS design which is custom-engineered for vegetable icing applications. In 2021, AIS custom designed and engineered our first unit for Dole Foods. This seasonal, semi-permanent unit splits its time between central CA and AZ. It can accommodate 20 tons of bulk ice surge with automatic ice transfer to downstream conveying and processing. Multiple units can be combined for larger volume applications. Set-up time once the trailer is moved is typically 1-3 days.
MIDAIS FEATURES:
• Transportable with kingpin tractor-ready mount.
• Designed for seasonal relocation and permanent mounting where exterior-to-plant mounting is required.
• Insulated on top and sides.
• Skirting is available to close off the unit to the ground once stationary.
• Top-mounted flanges for screw conveyor connections and a refrigeration unit.
• Bolt-on support stands that stow with the unit when transported.
• Based on first-in-first-out storage and feed to a discharge comb that doffs the ice into a discharge screw.
• Fully controlled, sensor monitored, and variable speed that can be integrated into upstream and downstream equipment.
• Under-mount forklift-ready equipment tray. Where all the ancillary gear is securely stowed for travel.
• Safety latched viewing doors at the discharge end, with a safety latched man door at the opposite end.
• Twin leveling screws to maximize the storage capacity.
• Box design is a hollow core aluminum filled with rigid foam.
• Walls are lined with USDA food-grade materials.
• No ice comes in contact with the drives.
• Comes with its own hydraulic power unit that is integrated into the control system.
• Robust elegant solution for ice surge and feed requirements.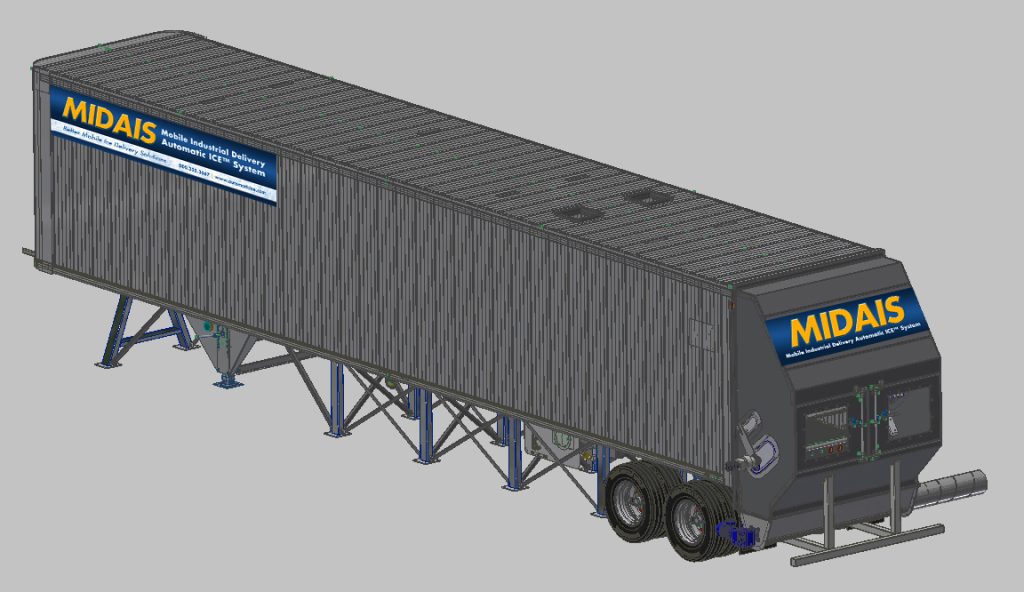 GREAT FOR THESE INDUSTRIES:
• Fruit & Vegetable
• Concrete Cooling
• Meat Processing
---
Below are images of a previous project built for concrete cooling.