Bulk Ice Storage and Surge
Automatic ICE™ Systems partners with industry leaders like KEITH and Matthiesen to fully customize and integrate their bulk ice storage and surge equipment to work seamlessly within our systems. Delivering the best and most innovative product solutions.
KEITH® WALKING FLOOR®
Improve efficiency and automate ice delivery with KEITH® WALKING FLOOR® Ice Storage & Conveying system. KEITH systems provide a true first in, first out (FIFO) ice rotation without leaving residual ice, ensuring an easy clean-up process.
• Low maintenance requirements.
• Maintenance can be performed without need to remove ice.
• Never need to enter "food zone" for maintenance, ensuring sanitary conditions.
• Fasteners located outside for easy visual inspection.
• Drive unit located under floor, away from ice.
• Floor slats attach underneath bin for easy maintenance.
• Systems won't operate if access door is open.

---
Matthiesen Live Bottom Bin
The Matthiesen Live Bottom Bin is a very versatile piece of equipment when you need to store ice between harvests. The live bottom bin advances the ice forward onto the screw conveyor to your bagging lines. Optional equipment can be added to the live bottom bin, such as slingers of leveling screws, to make your operation highly efficient.
• Bins available in true 5, 10, 15, 20, 30 and 40 ton capacity
• UHMW wall and floor
• All other contact surfaces are stainless steel
• Separate drive for floor, rake and screw
• Drives are direct coupled, which eliminates chain and sprocket
• UL Certified control panel
• Rugged galvanized frame standard (stainless steel available)
• Legs included (any size up to 3' standard). Call for extended lengths.
• Ball bearings
• Easy to assemble and maintain (can be shipped whole)
• 14 ton max discharge rate per hour
• Can change discharge conveyor direction in field
• 2 Lexan vertical rake viewing windows
• Proximity sensor for filling hopper
• Electrical 230/3/60 or 460/3/60 (others available)
---
MGR Low Profile Bagging Ice Dispensers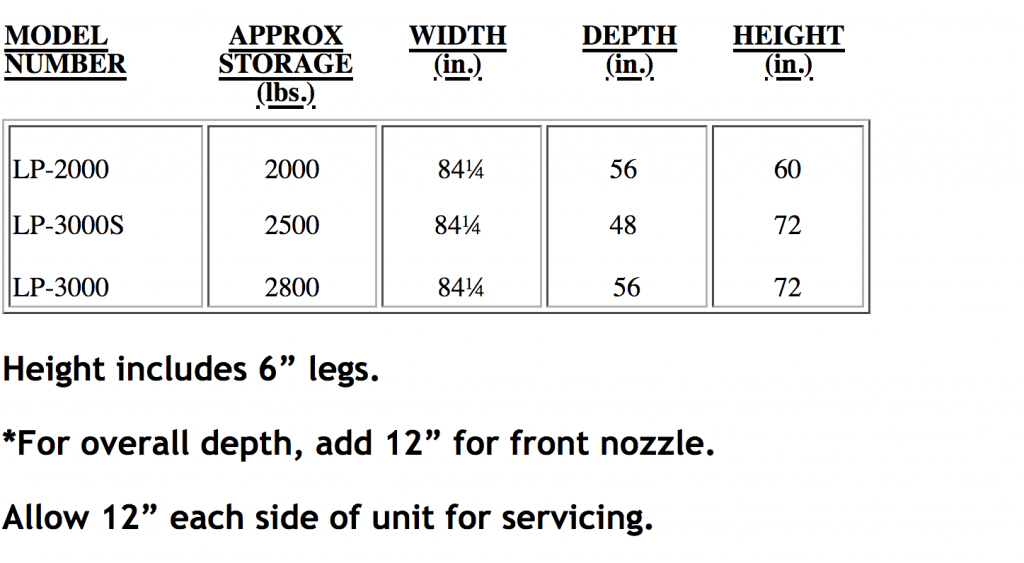 • Interior: Welded angle iron frame. Stainless steel, type 304, tank, fully welded seams.
• Exterior: Polished stainless steel. Aluminum back and galvanized steel bottom (stainless steel optional). Two section body optional.
• Insulation: 2" expanded polystyrene.
• Drain: 1" mpt, center bottom.
• Legs: 6" adjustable with stainless steel feet.
• Delivery System: Spiral auger type, stainless steel construction.
• Electrical: 208-230v/60hz/1ph (other voltages available) (3) 3/4 hp gear motor, 5.5 amps each.
• Options: Bag blower, portion timer, bag taper, coin or token mechanism.
• LP Series – Designed for heavy duty use where height is critical.
• Automatic – Ice is dispensed by foot pedal control (Automatic timer control optional)
• Delivery System – Stainless steel delivery auger driven by a heavy duty gear motor through a roller chain drive system.
• Agitation System – Push button activated all stainless steel agitators (4) are powered by two separate gear motors (upper and lower) through a connecting roller chain drive system.
• Serviceability – The entire unit is serviceable from the front and sides. All shafts can be removed from the front. minimizes rear clearance space.
---