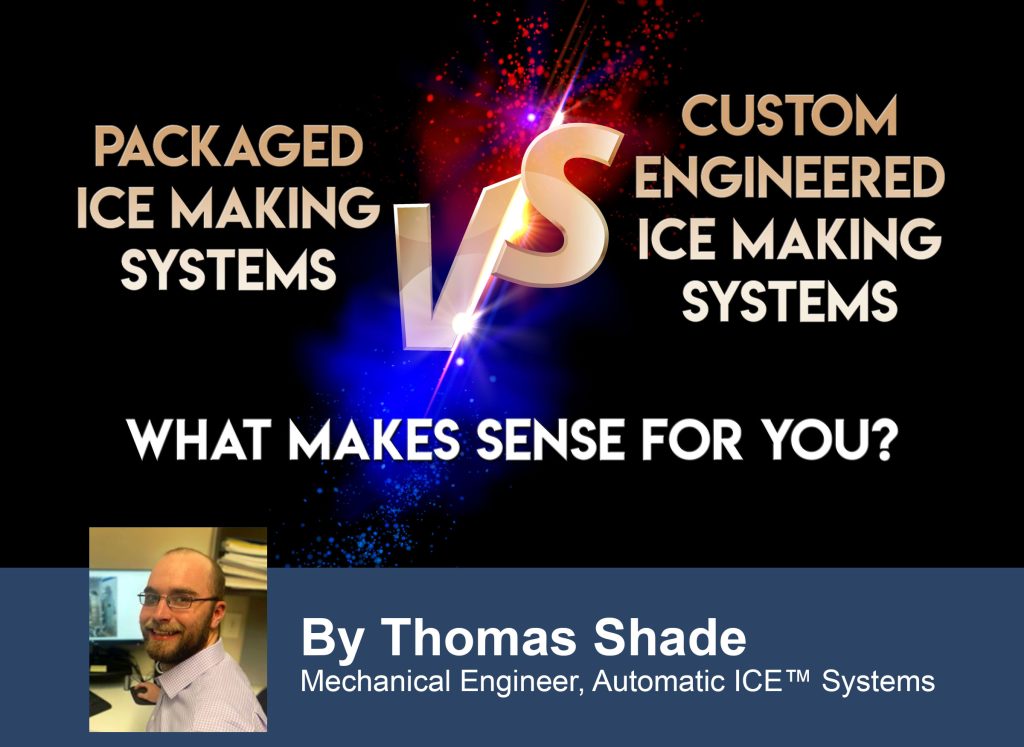 What type of system makes sense for your facility; packaged or custom-engineered? This is a common question for customers that are planning to build a new or expand an existing ice plant.
There are many factors that influence this decision, and it can be overwhelming. Key factors that need to be considered are capital cost (upfront cost), operating cost (utilities), footprint (how much space is available), future expansion plans, operational control required, and schedule constraints.
First, we need to define packaged ice makers. A packaged ice maker, like a Vogt P18XT, P24A, and P34A are stand-alone ice making systems. They are built on a frame that contains the compressor, water-cooled condenser, refrigerant piping, receiver, ice freezer, wiring, and a control panel. They are essentially plug-and-play. Once onsite, water and electrical are connected to the package, and the cooling tower and water pump are installed and piped, the ice maker is ready to run.

PROS OF A PACKAGED ICE MAKER:
Install costs are low – roughly 10-20% of an engineered system
Small overall footprint
All controls are done from the Vogt-supplied panel
The entire install process can take place in less than a week's time
CONS OF A PACKAGED ICE MAKER:
Higher capital cost per ton of ice produced
Future expansion is limited
Operating costs are roughly 5% higher due to the water-cooled condenser
Ice production is slightly lower ~3% due to the water-cooled condenser
Lack of controls for sequencing and optimization
When a compressor or cutter has an issue, the entire package is out of production
Water-cooled condensers can become fouled from water hardness – difficult to clean and leads to higher head pressures/loss of efficiency
---
When utilizing packaged ice makers, future expandability is limited. Packaged ice makers are stand-alone, meaning they can't communicate with each other. When multiple packaged units are running simultaneously, their cycles will overlap. When they overlap, they will harvest at the same time and send ice to the screw conveyor all at once. Screw conveyors can only handle so much ice simultaneously, and because of the lack of control sequencing, this limits the number of machines that can be installed on a common conveying and processing system.
Maximum recommended number of packaged units on a common screw conveying system:
6 – P18XT (Total of 54 tons of ice per day)
3 – P24A (Total of 70 tons of ice per day)
2 – P34A (Total of 90 tons of ice per day)
---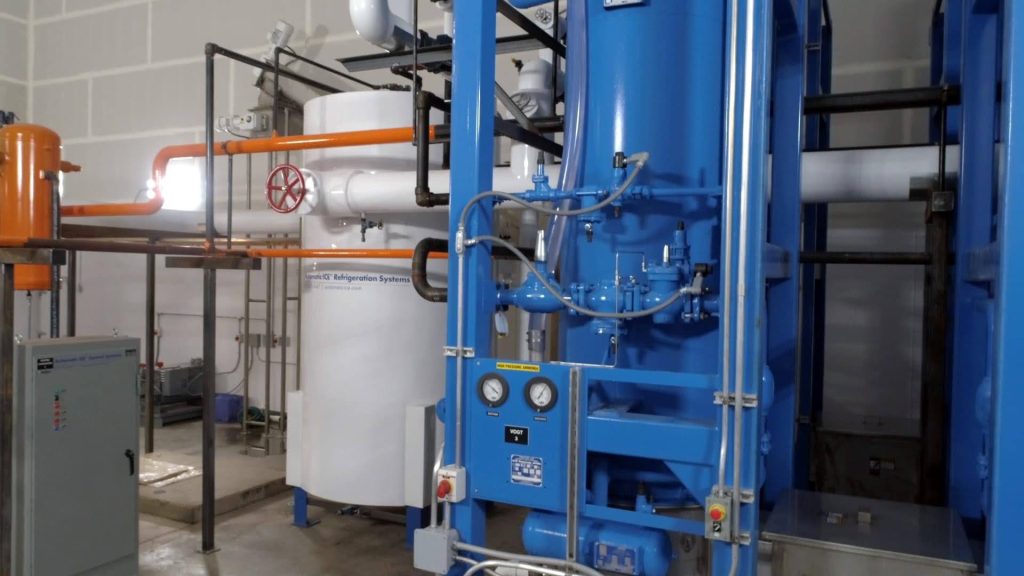 An engineered ice making system is much different than a packaged system. An engineered system is comprised of multiple pieces of equipment, individually sourced from vendors, field installed, and piped/wired onsite. All equipment is installed as part of a large system, whereas packaged units are all stand-alone. The customization of an engineered system allows the owner to stage equipment installations over multiple seasons. It also allows for full control optimization, and provides redundancy as compressor, condensers, and ice makers can all be run individually or in any combination needed.
---
---
PROS OF AN ENGINEERED SYSTEM:
Allows full expansion capabilities – Piping and vessels can be sized for future expansion at little added cost. When more ice production is needed, a single Vogt, single compressor or both can be added to spread the cost out over multiple seasons while still gaining production at each step
Custom control system allows optimization of ice production, efficiency gains, and redundancy
When an ice maker has an issue and goes down, the compressor load is diverted to the other ice makers, and the production loss is minimized
Redundancy across compressors, ice makers, and condenser – No need to totally shut down when an issue arises or maintenance is required
Text or Email messages alert when an issue arises
Control system aids in troubleshooting
Vogt low side ice freezers cost much less than packaged units
Evaporative condensers have lower fan horsepower and run on VFDs which allows for lower head pressure, resulting in higher efficiency and more ice production
CONS OF AN ENGINEERED SYSTEM:
Install costs are higher – all equipment, piping, valves, and electrical connections must be installed onsite
Large footprint – An engineered system requires dedicated space for compressors, ice makers, vessels, and condensers
---
Maximum recommended number of Vogt ice makers on an engineered system:
10+ P18AL (Total of 100 tons of ice per day) 
8+ P24AL (Total of 200 tons of ice per day)
6+ P34AL (Total of 300 tons of ice per day)
6 P34AXL (Total of 480 tons of ice per day)
---
If your company is considering growing its ice production platform, AIS can help you make the best purchasing decisions to better meet your needs today and as your company grows into the future.