An engineered packaged ice manufacturing system is custom developed and engineered for anticipated growth.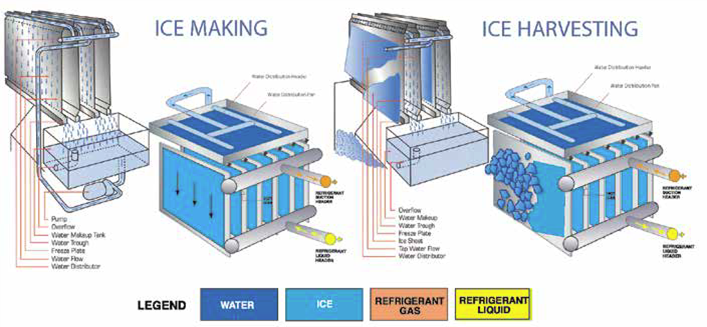 An engineered packaged ice manufacturing system is an efficient, highly productive manufacturing platform developed to minimize operational expenses. We call these engineered systems Automatic ICE™ Systems. These systems are custom developed based upon the client's operational demands and engineered to accommodate anticipated growth. Every equipment component incorporated into an Automatic ICE™ System is the best available component for the individual application.
A Perfect Complement
Each component is also custom engineered to perfectly complement, and enhance the performance, of the other associated components. These fully engineered systems are also developed to maximize the system's operational reliability. Each component is engineered to function well within each component's operational specifications. This yields performance without over-stressing components beyond their manufactured recommendations. These advantages yield more reliable and more productive manufacturing platforms that require less labor to operate.
Maximizing Usable Ice
Another characteristic to an engineered Automatic ICE™ Systems is the maximizing of usable ice. A typical Automatic ICE™ Systems produces less than 5% waste ice, and this minimal waste product is reclaimed into the operational platform.  A typical packaged ice plant will yield 20-25% waste product. That's a 15% increase in ice production efficiency! Couple this enhancement with increased operational throughput, increased manufacturing reliability, minimized labor cost, and engineered growth capabilities, and investing in an Automatic ICE™ System will give your company a substantial manufacturing advantage over the competition.
Is your company considering changes to your facility? Are you ready for a change? Let AIS give your company the tools to build a stronger future.  Call us today at (800) 325-3667.