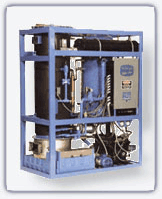 Approx Daily Capacity: 11,000 LBS
Standard Voltage (other 3 phase voltage available): 230, 3p, 60Hz (67 FLA)
Overall Dimensions: 32″ X 60″ X 86″
Shipping Weight: 3200 LBS
Refrigerant: R404A
Description:
The P118F Tube-Ice Machine and its predecessors have been an industry standard for nearly 50 years. Each year Vogt utilizes the latest technologies to improve and market-adapt this quality machine. The latest in this evolution has improvements that exceed those features found on any other mid-size ice maker.