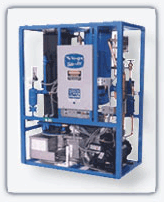 Approx Daily Capacity: 6000 LBS
Standard Voltage (other 3 phase voltage available): 230, 3p, 60Hz (48.3 FLA)
Overall Dimensions: 29″ X 50″ X 72″
Shipping Weight: 1800 LBS
Refrigerant : R404A
Description:
The P112F Tube-Ice Machine is the newest addition to the Vogt mid-size P-Series line of ice makers. It incorporates the same proven features as the larger P118F, but it is designed for commercial and small capacity packaged ice systems requiring only three tons of ice per day. This little brother to the P118 gives smaller ice users the opportunity to employ the efficiency and reliability of Vogt Tube-Ice at a lower capital expense.