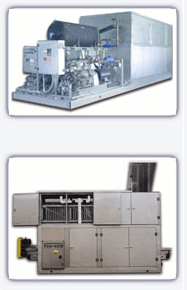 Workhorses. TURBO has designed two tough thoroughbreds. The TIG(freon) and TIGAR(ammonia) Ice Generators. We've literally re-designed the original ice generator from the inside out, for the most durable, reliable and flexible ice producer that users have ever seen. Equipment that makes the ice with the high I.Q. The ice with the high internal quality. Clear and hard ice. Ice that lasts. But what's really efficient about the TIG and TIGAR units is how hard they work. They produce their rated capacities while operating at peak efficiency. Fully automatic, using no moving parts for ice generation. You'll find hot gas ice harvesting values with all the units.
You'll discover another important benefit in the end product. You get a minimum of ice fines and snow. And remaining fines and snow melt to reduce plate water temperature, improving ice productions. It's the kind of craftsmanship and engineering you've grown to expect from those who know refrigeration and ice generation the very best.
Combine all these features with a proven plate ice making design that's been in use for over 25 years, now available in self-contained and remote suits, and you'll quickly see why they're becoming the popular choice for industry. Easy to maintain, energy efficient, plates and cabinets of stainless steel construction.
Consider the applications where they have been proven successful. You'll find them hard at work in poultry, produce and seafood operations, anywhere you find food processing. Industrial uses, too, from chemicals, textiles, dye-making to just about anywhere cooling is required to produce a finished product.