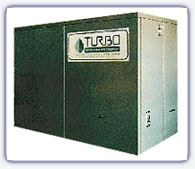 TURBO Refrigerating's Spacesaver model ice machines offer numerous features for a variety of uses. The spacesaver models can meet the needs of hotels/motels, restaurants, hospitals and many other types of institutions that call for high volume, nugget ice harvested in a short amount of time. Spacesavers deliver dry, hard fragmentary ice that does not fuse together. The simple timer control lets you make the size of ice you need… 1/8″ to 3/4″ thickness. In addition, the ice sizer is adjustable to fine, medium or coarse, making available a large variety of ice from any Spacesaver model in the line. The Spacesaver models offer numerous other features and benefits including:
TURBO Spacesavers set the trend for fragmentary ice. Nugget ice is ideal for table service, mixed drinks, packaged ice sales.
High volume, hard ice production-automatically controlled from a single timer operation.
Compact size that fits virtually anywhere. Available with or without companion ice storage bins. TURBO heavy-duty ice machines deliver diamond-hard, super-cold long lasting ice.
Big capacity…TURBO Spacesavers can produce 2,000 lbs or 4,000 lbs of ice each 24 hours, even in 90 ƒ room temperatures and at 70 ƒ water input.
TURBO ice can be more compactly stored and is handled with great ease, has minimum loss from melting, makes table service easier and faster, cools drinks faster and longer…gives exact control over ice-to-drink ratio.
The simple, easy-to-maintain ice-making system in the Spacesaver requires only five moving parts. This keeps maintenance costs at an extremely low level and helps provide a longer, low maintenance life for the unit.
The complete harvest is normally accomplished in less than two minutes. No artificial heat to melt the ice is applied. No liquid touches the ice. Ice is harvested hard, dry, ready to use, with no slush.
The Spacesaver unit operates at peak efficiency, without complicated or recurring adjustments. Simplicity of design and operation and stainless steel parts help eliminate major problems. Routine maintenance can be performed without special skills. The self-contained units are completed integrated, wired, charged with refrigerant and carefully shop-tested.