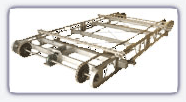 This is a complete bulk ice storage system ideal for the packaged ice industry. It includes a rake assembly, motor / drive, hydraulic hoist assembly, bin liner, bin support structure, electric control panel with programmable controls, load-detector and starters for all motors supplied.
Turbo has been manufacturing ice handling products since 1967, solving ice storage and handling problems for all these years. Turbo Ice Rakes incorporate functionally-interrelated features designed to deliver extended, dependable performance with minimum maintenance.
How an Ice Rake Works:
During the fill cycle, the rake sweeps the ice delivered from the ice makers and levels it over the length of the bin. The hydraulic hoist automatically adjusts the height of the rake to the volume of the ice in the bin. A limit switch automatically stops the ice makers when the rake is in the "fill-up" position, indicating the bin is full of ice.
Turbo CB Series Ice Rake Storage Bins Capacity Chart
| | | |
| --- | --- | --- |
| Inside Bin Dimensions (L x W) | Shipping Weight (Lbs.) | Capacity (U.S. Tons of Ice) |
| 15′ x 30′ | 7,500 | 9.0 tons/ft. x Ice Height* |
| 20′ x 35 | 9,000 | 14.0 tons/ft. x Ice Height* |
| 15′ x 35′ | 8,250 | 410.5 tons/ft. x Ice Height* |
| 20′ x 40′ | 9,750 | 16.0 tons/ft. x Ice Height* |
| 20′ x 45′ | 10,150 | 18.0 tons/ft. x Ice Height* |
| 20′ x 50′ | 10,900 | 20.0 tons/ft. x Ice Height* |
| 20′ x 55 | 11,300 | 22.0 tons/ft. x Ice Height* |