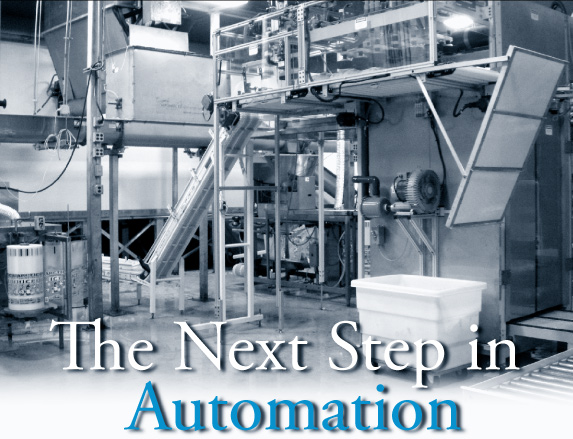 In the spring Cold Standard there was an article titled e Next Step in Automation. In this article we reviewed how we are building ice plants today that are Different, Smarter, and Better. Today's Automatic ICE™ Systems™ are more energy efficient, greatly reduce operational labor, and require much less real estate. e catalyst to these modern Automatic ICE™ Systems™ is total system automation. By eliminating almost all operational labor, seasonal around the clock operations can be justified. If a 200-400 pallet a day packaged ice producer can be staffed with only one or two operators, many of the obstacles to ondemand packaged ice production can be overcome.
AIS had the opportunity to develop two systems utilizing total system automation in the spring and early summer of this year. One of these facilities is capable of a daily output of 340 pallets and the other plant 250 pallets of packaged ice. Both systems utilize only two packaging lines, two automatic palletizing machines, fully integrated product and pallet handling components, along with automatic pallet and slip-sheet dispensing, and automated stretch wrapping. An operator is only required to monitor the system and keep it supplied with consumables. Depending on the rate of output, that same operator can remove the finished, palletized and wrapped pallets of packaged ice from the discharge. As a testament to capabilities of these systems, I received a call from one of the system owners who opened his plant early during a high demand period, turned the system on, and in three hours put 41 pallets of ice in the freezer, while answering a few phone calls and having a cup of coffee.
Labor costs continue to rise. Reliable operators are harder to find, and a competitive market place makes rebuilding packaged ice plants a necessity, not an option. Today, the technology exists and AIS has the key to unlocking its potential.