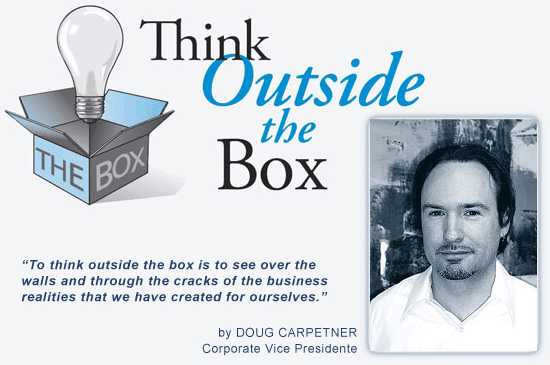 Business owners, directors and managers live a paradoxical life. Most discover at some point in their life that general contentment is a link to happiness. The paradox is that the contentment, or comfort zone, that we seek in our personal lives can destroy the growth of a business. When we become too comfortable with the ways things are and stop striving for the way things could be, we set the course for the demise of our business.
How do we avoid the self-destruction of the business that we worked so hard to build? We turn our back to contentment, we continually strive for improvements, we search for undiscovered opportunities, and most importantly we think outside the box. To think outside the box is to see over the walls and through the cracks of the business realities that we have created for ourselves. I will use this metaphor to focus on four areas of the packaged ice business: The Ice Plant (facility), Ice Bags (product), Product Distribution, and Ice Merchandising (point of sale). I will briefly touch on each individual "box", or aspect of the packaged ice business, with the goal of simply encouraging thought outside the box.
The Ice Plant Box
The packaged ice manufacturing facility that is common to our industry is the result of years of trial and error. Historically, the iceman (business owner, manager, etc) has been challenged with creating bigger, more efficient, and more productive manufacturing facilities. Unfortunately, most icemen are greatly under qualified for such a monumental task. Yes ice plants have evolved, yes they have gotten bigger and in some cases more sanitary and safer. But have these facilities gotten better? Of course there are exceptions to the rule, but for the most part, many of today's packaged ice facilities operate in similar fashion as they did 10, 20 or even 30 years ago. Technologies are out of date, equipment is problematic, and components are forced to work together. The challenge for the iceman is to realize, no matter how long they have been in the industry, they are not experts in building and growing ice plant operations. As a systems integrator, at AIS we face the challenge of updating and building better packaged ice facilities on a daily basis. We face bad habits, outdated technologies and stubbornness to change. The concept of systems integration is still new to this industry. Historically there have only been equipment suppliers to purchase "things" from, but the burden of creating an operational packaged ice plant was that of the iceman. Today, expert systems integrators like AIS are available to build better, more efficient and productive packaged ice plants. The challenge for the iceman is to set aside their habits and trust professionals with the task of building and improving ice plants.
The Ice Bag Box
What is the best size product, the 5-lb, 7-lb, 10-lb, or 20-lb package? The simple answer is: the package that secures the most profit. Preconceptions destroy this thinking. An unwillingness to change stifles progress. Just because a particular package size was best last year, doesn't mean that the same product is best this year or even the next. Quite often the real opportunity is in the change itself. The change in product size can be a vehicle itself to increased profits. To further demonstrate this, look at the profit success the Coca Cola Company has had with the change from 12 oz cans to 20 oz bottles. Unit size changes can be an opportunity, not a burden.
The Distribution Box
Most packaged ice companies distribute only their one brand or generic, using their own trucks and personnel within a predetermined distance radius. In addition, many companies continue to use price as their primary means to secure a retail location. This simple distribution model is generic, encourages competition and keeps the wholesale price of ice below what the market will allow. Why does a mega retailer like Walmart, known for paying less for their retail goods, pay more for icethan most other retailers? Because someone took the time to find out what they wanted, and then had the tenacity to give it to them. Many icemen have a bad habit of only offering retailers what they want to give, not what the market retailers desire. Although, free market enterprise means that if you don't attend to the needs of your customers, someone else will. Consider hiring professional sales persons, find out the individual desires of the retailers and draft a plan to better meet their needs. Special products, private labeling, unique distribution models, regional distribution cooperatives with other icemen, there are ways to give the retailers what they want, secure market share and yield higher unit profits, but you must think outside the box.
The Ice Merchandising Box
Just because an ice merchandiser can hold ice doesn't mean that it should. The ice merchandiser, along with the ice packaging, is the iceman's direct link to the customer. What does an old, damaged merchandiser say to your customer? If a particular retail location cannot justify merchandising your product in a new or new looking, clean box, maybe you should reconsider that retail location. What about generic looking merchandisers? What does a white box with simple "ICE" decals on it say to the consumer and retailer? It screams, "ice is ice and anyone can make bags of ice". We attempt to communicate to the retailer how special and better we are, but yet we are generic in our merchandising and marketing. The ice-merchandising unit is your billboard. Create a brand identity common with your packaging, transport vehicles and personnel's attire. Work with a marketing professional to do this. A professional can better determine the image the consumer is looking for and apply that image throughout all consumer contact points. Brand building is an investment in company and market stability; don't pass this opportunity up. _____________________________________________________________________________________________
As a systems integrator, at AIS we face the challenge of updating and building better packaged ice facilities on a daily basis. We face bad habits, outdated technologies and stubbornness to change.
_____________________________________________________________________________________________ Because the packaged ice business is such a small niche industry filled with long-time established companies, our bad habits and resistance to change tends to fuel itself. But just as we created the rules of this industry, we have the ability to change those rules. We have the ability to grow our companies and we have the ability to determine our future success. Don't be content with the way things are, think outside the established boxes and use change to build your companies future.
– Doug Carpenter