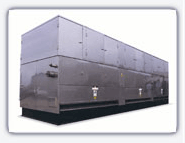 1 to 60 TONS SELF-CONTAINED AND REMOTE UNITS AMMONIA AND FREON MODELS Equipment that produces ice with the high I.Q. Ice with Internal Quality. Clear and hard ice. Ice that lasts. Ice that's easy to handle.
TURBO GIVES YOU DRY, HARD ICE AT LOW COST THAT CHILLS QUICKER, LASTS LONGER.
If you use ice in your business to protect or improve your product or service, then you should know how important it is to use the right kind of ice.
All ice is not the same, nor does it protect and cool the same, or cost the same. TURBO Ice Makers are a triumph of Ice Engineering and deliver a new and better kind of hard ice at a substantially lower cost.