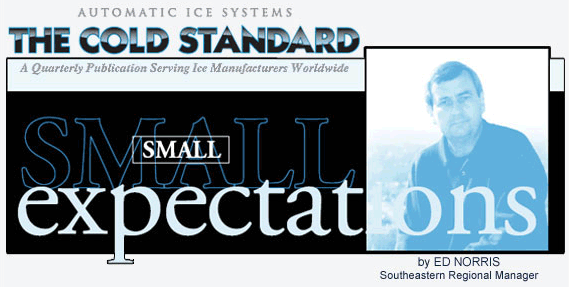 The packaged ice industry is relatively small. I've had a number of friends in the past who have asked my profession. When I explained that I was involved with industrial icemakers and the packaged ice industry, their response seemed to be "and what else do you do?" Ice certainly has a presence in everyone's lives, but the majority of it isn't
So packaged ice plants aren't as plentiful as bakeries, dairies or other food processors. Maybe it's because of this "small industry mentality" that I often encounter with icemen who seem to be content with their existing equipment and the lack of true company development and support services offered through traditional industry suppliers. They accept non-existent professionalism when they want to expand their existing facility or are planning a new one. The attitude seems to be that there really isn't anything better out there. I'll have to admit that prior to joining the AIS team; I too was guilty of "small expectations." I thought that a warm body with no training was as good as you got for supply orders and project development, and that a good cutting torch, crow bar, and sledge hammer were the essential tools for new plants and plant expansions! Does "seat of your pants" ring a bell here? How about "rag-tag"? The packaged ice industry often seems to be still in the ice ages, if you'll pardon the bad pun. It doesn't have to be that way. Icemen should expect more than a golfing buddy with unlimited beverage cart money. How about someone with extensive background and knowledge of the ice industry? How about trained and skilled professionals? Do I have your attention? Good!
AIS clients experience well-trained professionals when they call our inside sales people. New merchandiser orders and box parts, icemaker parts, Hamer parts, questions about operating problems, bag orders: factory trained and field experienced personnel are available to take care of all the everyday needs. I'm bragging here, but it's because I'm proud to bring this level of service to icemen in my part of the country. And this is only the everyday stuff. When it comes to plant expansions or new facilities, no one can touch AIS. I used to avoid expansion projects; they were a good way to lose a good customer. Now I get new clients because of plant expansions and new construction. A nice change. AIS designs and supplies custom-engineered systems. Every system contract includes not only plant design and equipment drawings, but engineering specification and detailed piping layouts and electrical ladders. Each individual system is engineered for efficiency, expandability and cost-effectiveness.
This is the way things should be done for the packaged ice industry. When I ask clients about past projects they have done with other providers, they usually indicate that they had few or no drawings and no true system engineering and integration. They tell me that the screw augers didn't fit, the controls were treated as a separate part of the project, and that they still have "issues" that haven't been taken care of. It doesn't have to be this way.
At AIS we do truly care about our clients. Their satisfaction, wellbeing, and success are foremost in our approach to building better client relations, as well as building better ice plants. The packaged ice industry deserves the best. I'm proud to be part of a team providing the level of service, competence, integrity, and professionalism that the ice industry needs. Not small expectations being fulfilled, but great expectations being met. I do hope you have great expectations! I do.