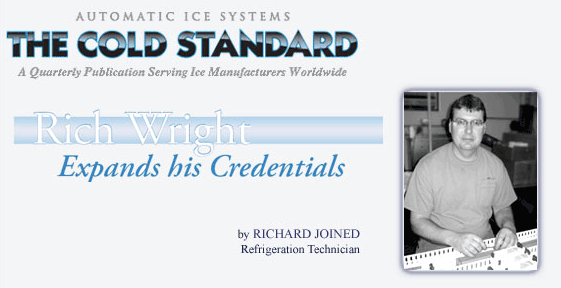 Richard joined the AIS team in 2004 as a ref rigeration technician.
Since then his equipment knowledge has grown through both factory training and field experience. Rich has been involved in a wide variety of customer service roles which have given him a broad perspective of the ice industry and its unique equipment technologies. He has been part of the Automatic ICE™ Systems install team for a wide variety of projects. Projects ranging from small 10-ton per day, single packaging line Automatic ICE™ Systems™ to fully integrated, four-line packaging systems producing over 250 tons of packaged ice per day. His knowledge of the Keith® WALKING FLOOR® Bin has developed through his involvement with seven Automatic ICE™ Systems™ installs utilizing this bulk ice transfer system. In addition to being a member of an AIS install or system start-up team, this past year Rich has conducted two 10-ton ice system project start-ups on his own. Both projects proved to be challenging, but Rich stood up to the obstacles and continues to utilize these experiences to improve customer support both in the field and at the office through equipment parts sales and technical support.
Ice system integration has always been central to Rich's training and ongoing experiences. Since his joining the AIS team, Rich has been involved with the construction of AIS Control Systems. He began his control work through closely supervised assembly of control panels and today is responsible for the construction of all AIS Custom-Engineered Control Systems. Today Rich not only builds these control panels but he is involved in the ongoing design improvements and component enhancements. To date, Rich has been responsible for over 50 AIS Control Systems builds used in our ice system integration.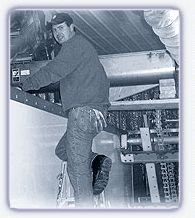 This past winter, Rich expanded his knowledge of Turbo and Vogt Ice Makers and Hamer Form, Fill and Seal Machines through factory training. By adding factory training to his customer service and field experiences, Rich has expanded his abilities to both better utilize Turbo, Vogt and Hamer equipment in the field and assist clients with technical support and equipment trouble-shooting. This training also qualified Rich as a Hamer certified start-up technician. With this certification, AIS now has two professionals on staff qualified to perform the start-up of Hamer Form, Fill and Seal machines including models 310 and 525 to the latest 540 model.Whether Rich is in the field starting-up the latest equipment technologies, installing fully integrated Automatic ICE™ Systems™, or at the home office building AIS Control Systems or assisting a troubled client with a machine failure, Rich has the knowledge and abilities to do the job right. More importantly, like all the AIS team of professionals, Rich has the compassion to truly help others and the passion to perform better than the rest.