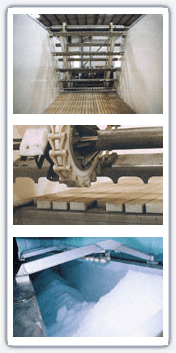 The Keith® WALKING FLOOR® bulk ice system conveniently stores and meters ice to processing systems. The Keith ice bin provides an uninterrupted flow of bulk ice. A series of hydraulically powered floor slats convey the ice toward the unique vertical comb system, where congealed ice is gently metered forward. This product can be custom engineered to handle unlimited tonnage. In addition, the Keith ice storage system provides a true first in, first out product rotation, without leaving residual ice in the bin.
The Keith® WALKING FLOOR® is the gentlest bulk ice storage system with the fewest moving parts available in the ice industry. The WALKING FLOOR® system yields no residual clean up and eliminates additional snow created by conventional ice moving systems that constantly scrape your product. The design simplicity of the WALKING FLOOR® not only preserves your product but also yields less down-time and fewer costly repairs.
For more than 20 years, Keith Manufacturing has been recognized as the leader in moving floor technology. With over ten thousand units operating around the globe and more than 70 patents worldwide, Keith® WALKING FLOOR® material handling systems are custom-designed for each application using the latest technology, innovative engineering, high quality components and uncompromising craftsmanship. All over the world, Keith is the name you can trust.
Features
Custom designed to meet the storage capacity and design you require
Real first-in, first out product rotation
Low maintenance
Safe enough to walk on
System complete with remote hydraulic power unit
Fewest moving parts
Gentlest conveying system
Floor movement causes NO snow
Special discharge assembly designed exclusively for the packaged ice industry.