By now ice sales have probably came to a screeching halt. It seems like just yesterday the phone was ringing off the hook with customers in need of MORE ICE!!! Now that the busy summer has come to an end, it is time to re-group and conduct inspections of all your equipment in order to determine what preventative maintenance (PM) will be necessary before next season. Do this now while any problems you experienced are still fresh in your mind and you will be much better prepared for next season. One category of equipment that requires regular PM is packaging equipment. Packaging equipment is highly mechanical and subject to extensive wear throughout the season. Properly maintaining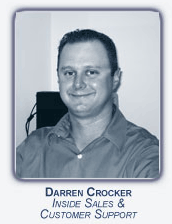 packaging equipment can be key to smooth operations for any size ice company. In this issue we will take a look at the Hamer 125 Bag Closing Machine and simple solutions to the most common problems.
The most common problems with the Hamer 125 Bag Closing Machine involve the wire feed system and its component parts. If your machine is not making a full staple, or is making deformed staples, the first thing to do is straighten the faulty staple and measure it. It should measure one 1-1/2 inches long. If it is any shorter than that, your wire feed system requires some attention. Probable causes could be a clogged wire feed tube (#2029) preventing wire from easily entering the machine, worn teeth on the wire feed wheel (#2017) not pushing an adequate amount of wire into the machine when it cycles, or a worn wire check body (#2019) which would allow wire to back out of the machine after it is fed. Any of these problems will result in short or incomplete staples. The wire feed tube can also clog with shavings from the wire and prevent adequate wire flow into the machine. Excessive amounts of shavings can be temporarily cleared from the feed tube with compressed air, however it will still require periodical replacement due to normal wear. When replacing the feed tube, be cautious not to tighten the setscrew too tight. Over tightening can deform the tube and restrict wire feed. To evaluate the wire check system, mark the wire where it enters the machine for visual reference, release tension on the wire pressure bearing by unlocking the wire feed lever, then tug on the wire with pliers to see if the wire can be pulled out of the machine.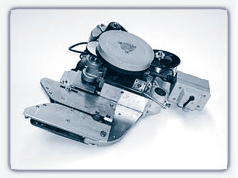 If so, replace the wire check body (#2019) and the wire check pawl (#2030-3) at the same time. Also take a moment to inspect the wire pressure bearing (#2018). Be sure that the bearing spins smoothly and is in generally good condition. With the feed lever in the locked position, the wire enters the machine between this bearing and the feed wheel and excessive wear to these parts will not allow adequate wire flow into the machine. Occasional adjustments may be necessary in order to maintain adequate pressure to the wire from this bearing as well. Tolerances for this spacing are located in your Hamer 125 manual. Using the proper lubricant on your closing wire and felt oiler will ease the load on the feed system parts. Food grade oils would be the recommended lubricant for closing ice bags. Using WD40 or similar products are not recommended, as these are more of a cleaning agent than a lubricant.
If your machine is making deformed staples or cutting off straight pieces of wire, the likely cause is problems with the staple forming parts. For problems with wire cutting straight or in "V"-shaped segments, the most common problem is a worn or damaged hook spring (#2035-6). The hook spring can be easily inspected by removing the feed system plate over the feed belt and removing the hook spring from its slot in the main casting (#2001). Without adequate pressure on the hook from this spring the wire will be out of position when the machine cycles resulting in the deformed staple. Another item that commonly fails is the limit switch (#2055-2). Prior to the switch failing you may experience double cycling or cycling hesitation when bags are fed to it. Prior to replacing the limit switch, check position of the limit switch rod (#2106). Over time the rod can re-position itself further back in the feed system, which will not allow enough range of motion on the turret switch to trip it and cycle the machine. A simple adjustment to the rod may be all that is required.
To adjust the rod, simply loosen the set screw on the actuating block (#2053) and rotate the block on the turret, positioning the rod further forward towards the front of the feed plates. Also verify the rod is clear of the feed belt and has no potential for hang up on the belt or anything else (which would cause continuous cycling). If this does not correct the problem with the machine, most likely the limit switch (#2055-2) should be replaced.
Staying on a regular re-build schedule will help identify and eliminate individual problems before they compound with each other making it difficult to pinpoint the exact problem. A full tear down and re-build is in order for any Hamer 125 having over 3 years of service or 1 million closures. Even if your Hamer Tier appears to be in great shape and you have not had any problems, the worst thing you can do is assume it will be fine for next season and skip scheduled PM. For questions or technical support on Hamer Packaging Equipment or to inquire about the AIS Hamer Re-Build Program please feel free to give us a call and ask for parts or technical support. – Darren Crocker