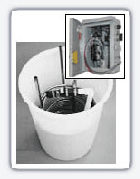 The AIS Pre-Cooler is designed to reclaim waste water and lost energy through a passive transfer of heat from incoming ice making water to pre-chilled blow-down water. By adding our simple but efficient pre-cooler, ice manufacturing plants using Vogt® P24s and P34s can reuse waste water and reclaim a large portion of the BTUs normally lost through blow-down water.
Increase your Efficieny
These units redirect chilled blow-down waste water to a specially designed holding tank. Make-up water, on its way to the ice machine, is circulated through a copper coil where a large number of BTUs are extracted from the make-up water by the surrounding cold water. After the BTUs have been extracted, the blow-down water is then transferred out of the holding tank by a submersible water pump to the evaporative condonsor. The pre-cooler is then ready to receive the next blow-down cycle from the ice machine. A significant increase in ice production can be achieved by reclaiming these previously lost BTUs! For example, a single Vogt P34AL using 80° make-up water will produce an additional 2 tons of ice per day.
More about ice maker blow-down
Although water supplied by local water suppliers is safe to consume, it contains many contaminants that interfere with the production of quality ice. Modern ice machines are designed to control the amount of contaminants that remain in the ice by flushing the system at the end of each ice-making cycle. The water that is used for this flushing is referred to as blow-down water.
The blow-down water is very cold (34°F) and is normally discharged directly into the drain. By allowing this cold water to go directly down the drain, ice manufacturers are, in a sense, throwing down the drain the money it took to cool water. Automatic ICE™ Systems has solved this wasteful practice of throwing away energy (BTUs), by developing a pre-cooler that uses the cold blow-down water to cool the ice maker's incoming water.