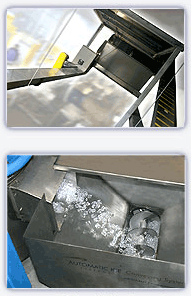 At AIS, integrated conveying systems have always been central to our ice system development. Such systems are the backbone to ice flow and system-processing. We custom-engineer each conveying system utilizing the latest in computer-design technology. Each system is then fabricated through an exclusive manufacturer partnership that insures only the highest quality standards.
Why are AIS conveying systems better?
Not all conveying systems are equal! Some conveyor systems produce a lot more snow and "junk" ice than others. This reduces your useable ice capacity, while at the same time driving up maintenance and disposal costs. Over the years AIS has supplied quality Automatic ICE™Conveying Systems to ice manufacturers throughout the world. Our systems are designed to convey ice with a minimum of damage to the product resulting in more sellable ice and more profits. Every system is mathematically and mechanically engineered for consistent ice flow with very little over-feed or surge points. This results in very reliable, low maintenance distribution. So whether you require a single custom-designed conveyor or a complete ice distribution and multiple-line processing system, we have the knowledge and ability to better meet your needs.
About AIS Ice Processing Systems
At AIS, we custom-engineer ice processing systems to meet your individual needs. Each system is designed with function, efficient ice flow and adaptability in mind. Our systems coordinate each individual component, from bulk-storage to ice-conveying through the final product delivery. With over 25 years experience as a major industry supplier, AIS has both the individual product knowledge and applied market experience to assure the best processing system for your individual needs.