Industrial Ice Machines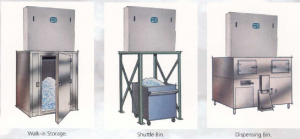 The VT is an economical and uncomplicated industrial ice machine and is best for users that require a lot of volume such as grocery stores, hotels, farming, seafood and poultry packers and processors.
This ice machine provides maximum production due to its double surface freezing. Because there are no moving parts, maintenance is low.
A Programmable Logix Controller is available for all of the models. This device ensures dependable and reliable ice operation. The machine is durable, low maintenance and easy to clean.
VT Series Ice Machine Features:
4,000 to 10,000 lbs of "Cracked Ice" per day
R-404a Refrigerant
Highly efficient Copeland discus compressor
All stainless welded construction
Hot gas defrost for rapid harvest and quick recovery
Double Walled vertical tube evaporator for maximum efficiency & production
Low maintenance cutter bearings
Harvest hold for definite defrost in varying ambient temperatures