Thermal Energy Storage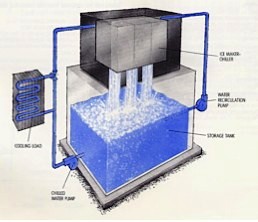 Thermal energy storage is dynamic ice harvesting for air conditioning for process cooling.
TURBO specializes in ice making and industrial refrigeration systems. Their ice harvesting design uses an ice-making surface that is entirely separate from the ice storage tank. The surface consists of stainless steel plates that are welded together to form computer-designed internal channels for controlled flow of refrigerant. Water is distributed over the outside of the plates. They are arranged vertically in modules right above the ice storage tank. Ice forms on both sides in 1/4″ inch thick sheets. Then, at set intervals, hot refrigerant enters the plates and causes the ice to break away and fall into the tank in small pieces.
The TURBO ice maker operates efficiently as a chiller when the cooling rises above the ice making capacity. You do not need a separate evaporator section, additional refrigerant control valves, complex controls or a large refrigerant charge. They are also efficient as heat pumps. Heating with ice can be a significant side benefit or it can be the primary function.
Advantages of TURBO Thermal Energy Storage
To handle increased cooling loads with other systems, you need more compression and heat transfer equipment. However, with TURBO ice harvesting, you only need a bigger ice storage tank. It can be located outdoors, indoors, underground or anywhere that will allow mounting of the mechanical package above the storage tank.
TURBO ice harvesting equipment has a constant compressor suction temperature. This means greater efficiency and longer life.
The packaged unit concept eliminates extensive field assembly and ensures single source responsibility to optimize components resulting in the most economically installed and operating system.
All of the ice that will be needed during an on-peak period is produced and stored during the previous off-peak period. Therefore, demand charges are avoided entirely.
Only a part of the cooling needed for an on-peak period is provided by melting ice produced at the previous off-peak period. The additional in provided by an on-peak operation of the ice make as a chiller. Therefore, demand charges are reduced but not completely avoided.
Weekly load shifting is a feature where TURBO's ice harvesting system excels beyond any other thermal storage system. All off-peak hours, such as Saturdays and Sundays when the building may be closed, are utilized. Ice is produced during these off-peak timed. The ice is stored and gradually melts as needed over the course of the week. This eliminates demand charges.
Finally, all on-peak and off-peak hours are fully utilized to obtain 168 hours of compressor operation per week. This feature often yields a very good return on investment. It is also a feature that sets TURBO harvesting ice makers apart from other thermal storage energy systems.
Thermal Energy Storage Features:
Evaporator sections utilize vertical evaporator plates that are made of 304 stainless steel.
Water distribution pan is stainless and all water distribution piping is provided.
The frames (HP) shall be fully welded and hot dip galvanized after fabrication.
The frames(IGC) shall be fully welded and coated with a rust preventative primer and water proof finish.
The cabinets are insulated with 2″ of foam urethane and are suitable for outdoor application. The outer panels are protected with an approved exterior finish.
The compressor will be of the open(semi-hermetic) reciprocating type complete with motor and starter, or screw compressor with motor or starter.
The condenser is the evaporative type, water cooled or air cooled.
The refrigerant piping utilizes direct expansion valves, hot gas harvesting valves and a suction line accumulator with integral liquid suction interchanger, receiver designed to hold entire refrigerant charge.
The controls are either electric or electronic and will include all ice harvesting controls, refrigeration controls and water level controls.
Finally, all system components are fully tested before shipping to ensure that all parts are operational.